Mercenarii lui Soros în România
Fiii și fiicele lui Soros în România
Fundația americană Capital Research Center (CRC) a obținut o cantitate imensă de documente privind implicarea lui Soros la nivel internațional, iar aceste documente conțin date inedite și despre România. Soros, de fapt, preferă să-și investească banii în proiecte internaționale mai mult ca în Statele Unite. În 2017, de exemplu, doar 15% din contribuțiile lui au vizat proiecte în interiorul Statelor Unite iar restul au fost proiecte internaționale. Anul acesta, Soros deja a investit 5 milioane de dolari pentru a influența alegerile din Statele Unite cît și alte inițiative cetățenești, inclusiv referendumuri, care vor fi votate pe 6 noiembrie. Printre ele e și un referendum în statul Maine de creștere a impozitelor la care Soros a contribuit cu 400.000 $.
Prăbușirea comunismului și vizita lui Soros în România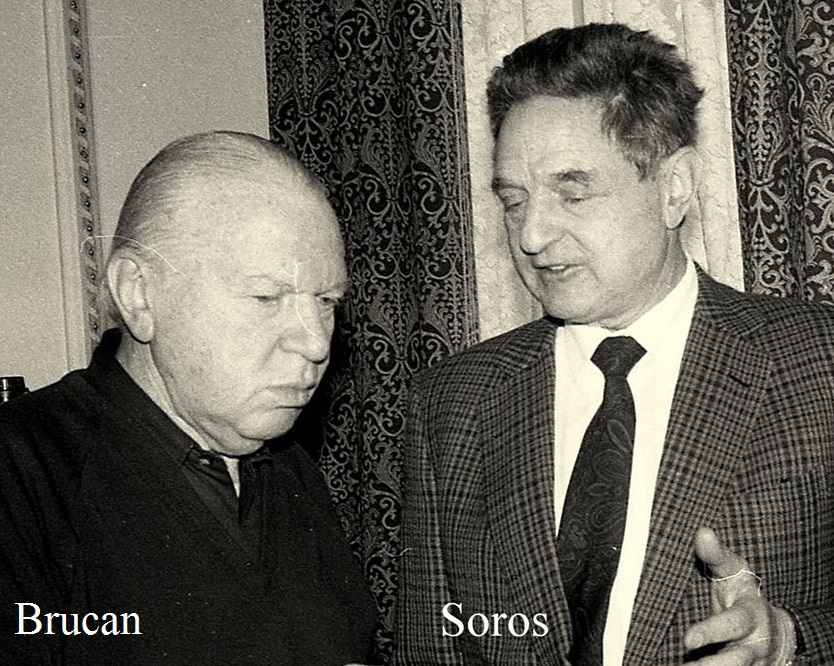 Câți dintre noi ne mai amintim ori știm că în prima săptămână din ianuarie 1990, adică la mai puțin de două săptămîni după ce soții Ceaușescu au fost executați, George Soros a făcut prima călătorie în România? Soții Ceaușescu au fost executați pe 25 decembrie 1989 iar pe 30 decembrie s-a format Grupul pentru Dialog Social pe treptele Hotelului Intercontinental din București. Prima întrevedere pe care Soros a avut-o în România a fost cu fondatorii Grupului, inclusiv Silviu Brucan. Într-o emisiune televizată din 2005 dl Robert Turcescu afirma că Soros a aterizat în România cu primul avion care a aterizat în București după revoluție.
Conform articolului CRC Soros ar fi oferit Grupului pentru Dialog Social un milion de dolari "with which to build a favorable NGO network în Romania" ("cu care să construiască o rețea favorabilă de organizații neguvernamentale în Romania"). Grupul, însă, a refuzat banii pe motiv că dorește să-și mențină independența.
Jumatate de an mai tirziu Soros a fondat in Romania Fundatia Soros, o organizatie neguvernamentala cu un buget initial anual de 1,5 milioane de dolari. Pina spre finele anilor 90 Fundatia Soros a fost singura organizatie neguvernamentala din Romania care primea fonduri externe. In urmatorii patru (4) ani Soros a investit in scrierea si publicarea de manuale scolare prin intermediul Ministerului Educatiei. De la an la an sumele investite de el prin Fundatia Soros au crescut, ajungind la 10 milioane de dolari pe an pe la mijlocul deceniului.
In 1997 Fundatia Soros si-a schimbat numele, devenind Fundatia pentru o Societate Deschisa (FSD), un nume similar cu al organizatiei mame din Statele Unite, Open Society Foundation. Bugetul anual al Fundatiei a crescut la 12 milioane de dolari. O mare parte din fondurile Fundatiei au fost folosite pentru a selecta si finanta educatia unor tineri romani in universitati occidentale cit si la Universitatea Centrala Europeana de la Budapesta. Singurele conditii impuse de Soros acestor studenti a fost ca la terminarea studiilor sa revina in Romania si sa devina activi in viata sociala si politica a tarii. Unul din acesti studenti, mentionati in comentariile CRC, a fost Mirel Palada care in anii 1997-1998 a facut studii la Kalamazoo College in Michigan, a obtinut un doctorat in sociologie si a devenit secretar de presa al Prim Ministrului Victor Ponta. In timp, dl Palada s-a distantat de "infanteria" lui Soros, pe care a numit-o "lipsita de scrupule" si care se pozitiona impotriva intereselor nationale ale Romaniei.
Investitiile lui Soros in Romania cresc
Soros a continuant sa creasca sumele alocate pentru scopuri ideologice in Romania, la inceputul Mileniului FSD avind un buget anual de 16 milioane de dolari. Cu 16 milioane de dolari poti face multe. In acelasi an, 2000, FSD s-a divizat in 12 grupuri separate, ele insa functionind sub tutela unei organizatii de tip umbrela numita Soros Open Network – Romania (SON). Articolele publicate de CRC discuta tranzitia treptata a organizatiilor lui Soros de la un activism strict civic la unul politic. In opinia CRC Soros si organizatiile pe care le-a finantat el in Romania au finantat miscarea civica impotriva proiectului minier de la Rosia Montana. O organizatie similara cu cele ale lui Soros, Charles Stewart Mott Foundation din Michigan a contribuit, afirma CRC, $426.800 la activitatile lansate impotriva proiectului Rosia Montana. Fondurile au fost folosite pentru propaganda, angajarea jurnalistilor si influentarea mass mediei si a publicului impotriva proiectului. In iunie 2006 Soros a anuntat ca este impotriva proiectului Rosia Montana si ca va folosi "toate metodele legale si civice pentru stoparea lui".
La nivel politic, Soros a inceput sa sconteze succese in Romania incepind cu alegerile din 2004. In 1990 Sandra Pralong a demisionat din functia de ofiter de presa la publicatia americana Newsweek si a devenit primul Director Executiv al Fundatiei Soros in Romania. A fost consiliera a Presedintelui Constantinescu si astazi e consiliera a Presedintelui Ioahannis. In 1999 a publicat o carte despre Karl Popper, fostul profesor a lui George Soros din Viena anilor 40 care i-a influentat vederile politice ale acestuia.
Intre 1990 si 1996 Alin Teodorescu, primul presedinte al Grupului pentru Dialog Social, a fost primul Presedinte al Fundatiei Soros din Romania. Intre 2000 si 2004 a fost Sef de Guvern al Prim Ministrului Adrian Nastase iar in 2004 a intrat in Parlament.
Renate Weber a fost liderul Consiliului Director al Fundatiei Soros din Romania intre 1998 si 2007. Incepind din 2004 a fost consiliera Presedintelui Basescu in domeniul legislativ si constitutional si in noiembrie 2007 a intrat in Parlamentul European unde se afla de zece (10) ani.
Criza economia inceputa in 2008 l-a constrins pe Soros sa canalizeze 100 de milioane de dolari pentru combaterea "populismului" in Europa de Est, inclusiv Romania, pe care l-a numit, intr-un articol din Financial Times la vremea aceea ca fiind "xenofobic si de extrema dreapta". Asta poate explica de ce dupa 2012 sumele investite anual de Soros in Romania au inceput sa scada.
A fost, insa, doar o schimbare in strategie nu obiectiv. Soros a continuat sa canalizeze fonduri in Romania dar printr-o structura noua, numita Trust for Civil Society in Central and Eastern Europe (Fondul pentru Societatea Civila in Europa Centrala si de Est). Aceste fonduri au fost folosite pentru finantarea activitatilor celor 12 organizatii neguvernamentale sorosiste formate mai devreme si prin ele alte organizatii neguvernamentale care aveau ca scop, in opinia cercetatorilor de la CRC, "sa transforme cultura crestin-ortodoxa si conservatoare a Romaniei, promovind valori sociale seculare de stinga" ("… seeking to transform Romania's conservative, Orthodox Christian culture, by promoting socially liberal values")
Printre organizatiile care au primit asistenta din partea organizatiilor sorosiste au fost si cele care promoveaza "drepturile minoritatilor sexuale". Acest subiect a fost discutat intr-un articol publicat in anii 90 de publicatia americana Foreign Policy. Conform articolului CRC, Soros a sprijinit financiar si Vice News Romania. In urma investitiilor masive de-a lungul anilor, Soros, afirma cercatatorii de la CRC, a format in Romania "o armata de soldati loiali ai societatii civile" ("Soros could reduce his direct involvement in Romania because he left in his wake a loyal army of grateful, civil society soldiers").
Mercenarii lui Soroș în România
Din ianuarie 1990, cind a ajuns pentru prima data in Romania si pina astazi, Soros a "investit" prin retelele lui peste o suta de millioane de dolari, asa cum am explicat in prima parte a acestui material. Succesul sau nu poate fi contestat. In opinia noastra, el e in primul rind responsabil pentru anomalia evidenta si regretabila a Romaniei: unei majoritati covirsitoare a cetatenilor conservatori i se opune o intelectualitate si o mass media orientate vadit catre Stinga. Si aceasta pentru ca tinerii educati de Soros au devenit extrem de influenti. Iata subiectul pe care il discutam astazi.
Universitatea lui Soros din Budapesta
E in general bine cunoscut publicului ca George Soros a fondat si finanteaza Universitatea Europei Centrale, care pentru moment inca functioneaza in Ungaria. Prim Ministrul Victor Orban vrea sa inchida Universitatea, ori sa o constringa sa paraseasca Ungaria. Cu toate ca presa occidentala a publicat pe larg asupra acestui subiect, detalii importante ale disputei dintre Ungaria si Universitatea lui Soros nu au fost mentionate. Se stie prea putin, de exemplu, ca institutia nu are acreditare in Ungaria! Acreditarea ei in Europa e indirecta prin asocierea ei cu Bard College, o universitate din New York. De-a lungul anilor Bard College a semnat memorandumuri de intelegere cu Ungaria care au facilitat desfasurarea activitatilor UEC in Ungaria. Ungaria, insa, nu mai vrea sa semneze noi memorandumuri.
Din informatiile parvenite noua, se pare ca Bard College a impus Ungariei o limita de timp, 1 decembrie pentru a fi specifici, pentru semnarea noului memorandum. Bard College si Universitatea lui Soros au mentionat ca daca memorandumul propus nu e semnat pina pe 1 decembrie, Universitatea se va muta de la Budapesta la Viena. Ramine de vazut.
Cert e ca UEC nu pregateste, asa cum ne-am astepta de la o universitate, medici, avocati, ingineri, arhitecti, agronomi, economisti, oameni de stiinta, cercetatori, specialisti in constructia drumurilor si podurilor, ale aeropoartelor, si liberi profesionisti de genul acesta. Ea a pregatit si continua sa pregateasca profesori, jurnalisti, specialisti in mass media, sociologi, cercetatori in domeniul sexualitatii ("studi de gen"), activisti radicali, psihologi.
Mii de tineri, in marea lor majoritate din Europa de Est si fosta Uniune Sovietica, au absolvit aici. Pentru est europeni, Universitatea lui Soros este un veritabil magnet, o mana din cer unde post studia la costuri extrem de reduse si obtine o diploma universitara "occidentala". Odata intorsi in tarile de bastina multi dintre acesti studenti lucreaza pentru organizatiile lui Soros, ori organizatii finantate de Soros, lucreaza pentru mass media, devin profesori universitari, lectori, jurnalisti, politicieni si activisti, inclusiv activisti de tipul celor pe care ii vedem periodic in strada. Orientarea lor politica si intelectuala, cel putin la inceput, e in general de stinga si anti-nationala.
Studiul Capital Research Center privind influenta lui Soros in Romania
Revenim in Romania si va reamintim ca materialul nostru din 25 octombrie si cel de azi e bazat pe informatii si date continute intr-un studiu vast, publicat in zece (10) articole separate, intre decembrie 2017 si mai 2018, de fundatia americana Capital Research Center (CRC"). El poate fi citit aici. Speram ca aceste informatii sa educe publicul din Romania si sa "doteze" votantii cu acele cunostinte pe care noi le socotim utile pentru alegerile europarlamentare din anul viitor – si care sunt ocultate de mass media romanesti.
Asociatia Pro Democratia
O organizatie majora care a beneficiat de finantele lui Soros in Romania este Asociatia Pro Democratia (APD), care a fost condusa de dl Cristian Pirvulescu din 1999 pina in 2013. APD s-a format la inceputul anilor 90 cu ajutorul Institutului National Democratic din Statele Unite, un institut afiliat cu Partidul Democrat din Statele Unite. Dupa infiintarea Soros Open Network – Romania, APD a devenit o parte integranta a acestei retele si, conform articolului CRC," has remained one of its most prominent organizations" ("a ramas una din cele mai proeminente organzatii ale ei"). Publicul din Romania probabil ca isi aminteste ca la incercarea de revizuire a Constitutiei Romaniei prin eforturile Uniunii Social Liberale din Romania (USL) cu ani in urma, dl Pirvulescu si organizatia lui au fost desemnati sa organizeze consultari cu publicul din Romania pe tema revizuirii Constutitiei. Eforturile AFR la vremea aceea de a fi integrata in platforma de consultare publica au fost in mare parte ignorate, ceea ce ne-a constrins sa ne adresam Comisiei de la Venetia.
Cam in aceeasi perioada de timp, miliardarul new yorkez facea eforturi similare in Ucraina, Georgia, Macedonia, Croatia, Serbia si Slovacia, dar acestea nu fac obiectul comentariilor noastre.
In ianuarie 2018, CRC a publicat a treia parte a sintezei sale, cu privire la incendiul de la Clubul Colectiv, demonstratiile masive care i-au urmat si demiterea prim ministrului Ponta. Autorii nu publica dovezi ca Soros ar fi fost in spatele demonstratiilor, dar isi afirma suspiciunea.
Monica Macovei
A patra parte a analizei CRC a fost dedicata in ianuarie 2018, in exclusivitate, carierei fostului ministru Monica Macovei. In 1992 Macovei a primit o bursa din partea organizatiilor lui Soros si a studiat la Universitatea Europei Centrale. In 1994 a absolvit Universitatea cu un masterat in drept, iar dupa aceea a devenit consultanta unui numar relativ mare de organizatii neguvernamentale, inclusiv principalul nod al retelei Soros, Open Society Institute – Institutul pentru o Societate Deschisa. Activismul ei i-a deschis porti si acces la alte organizatii sorosiste din restul Europei si prin ele la influentele institutii ale Uniunii Europene. De-a lungul anilor, Macovei a criticat Romania in afara Romaniei accentuind coruptia politica din tara, ceea ce i-a deschis multe oportunitati politice, atit in Romania cit si in afara Romaniei. In 2001 Macovei a devenit Presedinte al organizatiei sorosiste APADOR-CH – Comitetul Helsinki, anterior condusa de o alta personalitate a retelei Soros, Renate Weber.
Alina Mungiu-Pippidi si Revista 22
In ziua Craciunului lui 2004, Presedintele Basescu a sunat-o pe Macovei solicitindu-i sa devina Minstru al Justitiei. Macovei s-a sfatuit cu Weber dar si cu o alta loiala a lui Soros, Alina Mungiu-Pippidi.
Conform CRC, Mungiu are o functie mai importanta decit colegele ei din Romania in retelele Soros. Este membra in Comitetul de Conducere al Consilierilor Europeni ai Fundatiilor pentru o Societate Deschisa, o organizatie umbrela a sorosismului in Europa. De altfel, CRC o numeste pe Mungiu "ideologul sef al organizatiilor Soros din Romania" ("the Ideologue-in-Chief of Romania's Soros society"). Mungiu a publicat devreme de la "22", revista Grupului pentru Dialog Social, si in 1996 a fondat Societatea Academica Romana care, conform articolelor CRC, "has received hundreds of thousands of dollars in grant dollars in the past decade alone from the Soros founded and funded Trust for Civil Society in Central and Eastern Europe" ("a primit sute de mii de dolari in donatii in doar ultimul deceniu din partea organizatiei fondate si finantate de Soros, Fondul pentru Societatea Civila din Europa Centrala si de Est").
Mungiu e bine cunoscuta in Romania nu doar pentru comentariile frecvente din presa ci si pentru piesa de teatru "Evanghelistii", o blasfemie la adresa Evangheliilor si a lui Hristos. Mungiu a reusit astfel sa insereze literatura romana in genul de literatura mondiala care se profileaza pe blasfemia credintei crestine si a Bisericii, laolalta cu autori precum Lars Petter Sveen, autorul cartii "Children of God" ("Copiii lui Dumnezeu"). O recenzie a cartii facuta pe 19 octombrie de New York Times este disponibila aici.
Mungiu insa e cunoscuta si pentru teoriile ei conspirationiste, inclusiv pentru ideea ca miscarea pentru eliberarea copiilor familiei Bodnariu din detentia institutiei norvegiene Barnevernet a fost una de inspiratie "putinista".
In 2010, Societatea Academica Romana, fondata de Mungiu, a lansat Alianta pentru o Romanie Curata. Conform studiului CRC, in cei opt (8) ani de activitate, Alianta pentru o Romanie Curata a primit din partea organizatiilor lui Soros $120.000.
Influentarea presedintiei Basescu
Impreuna, Macovei si Weber au format o echipa foarte influenta in cabinetul presedintelui Basescu. Erau anii cind Romania se pregatea sa intre in Uniunea Europeana. Dupa ce Senatul l-a suspendat pe Presedintele Basescu in 2007, Macovei si-a pierdut postul, dar in 2009 a intrat in Parlamentul European unde activeaza pina astazi. De-a lungul anilor s-a dovedit a fi un aliat loial al miscarii pentru "drepturile minoritatilor sexuale" si a pus presiune asupra Republicii Moldova sa-si modifice legislatia interna in favoarea nediscriminarii pe baza de orientare sexuala. De fapt, Macovei, la fel ca Weber, a fost unul din cei mai inversunati oponenti ai miscarii pro-familie si pro-viata din Romania. Scriam luna trecuta ca Macovei s-a opus redactarii unei scrisori in sprijinul referendumului initiata de membri ai Parlamentului European care simpatizau cu referendumul.
Mai putin cunoscut publicului din Romania este rolul pe care l-a jucat Andrei Plesu, fondator al publicatiei Dilema, impreuna cu Weber, in postura de consilier al Fundatiei Soros iar apoi al Presedintelui Basescu.
Anul 2014 a fost un an cu multe oportunitati pentru Soros in Romania. Conform studiului CRC, in 2014 Soros a donat, prin organizatiile lui, aproximativ 5,7 milioane de dolari la diverse organizatii care se opuneau unor candidati la europarlamentare care favorizau suveranitatea nationala in detrimentul centralismului si federalismului Uniunii Europene. Din acesti bani, $91 500 ai fost trimisi in Romania si $41 250 pentru influentarea voturilor romanilor din diaspora. Organizatiile lui Soros au alcatuit o lista a "aliatilor de baza din Parlamentul European in 2014-2019", in lista aceasta fiind mentionati Cristian Preda, Renate Weber si Monica Macovei.
Instabilitatea politica din Romania
Instabilitatea politica din Romania e bine cunoscuta. Si, se pare, permanenta. Ne-am obisnuit sa iesim in strada. Este o perceptie cu care se incheie studiul Capital Research Center – dar si cu intrebarea daca nu cumva Soros si organizatiile lui din Romania au contribuit la destabilizarea politica a tarii:
"Many western analysts and journalists criticize Romania for 'instability' because it has gone through a dozen prime ministers since the fall of communism. But international philantropists like Soros contributed to that instability because the youth they funded grew intoxicated with power when they realized that prolonged street demonstrations can force governments to resign". ("Multi comentatori si jurnalisti critica Romania pentru 'instabilitatea' ei pentru ca a avut o duzina de prim ministri dupa caderea comunismului. Dar filantropisti internationali de tipul lui Soros au contribuit la aceasta instabilitate, pentru ca tinerii pe care i-au educat s-au intoxicat cu putere dindu-si seama ca demonstratii publice prelungite pot constringe guvernul sa demisioneze".)
Are CRC dovezi in sensul acesta? Probabil ca da; cert e ca in 2013 organizatiile lui Soros au finantat un proiect de radicalizare a tinerilor din Romania care a costat $105.000. Scopul acestei donatii a fost "socializarea a 3.000 de studenti si tineri" pentru a elimina "apatia" politica in rindul tinerilor!
La o zi dupa demiterea lui Ponta, Presedintele Iohanis a solicitat consultari cu societatea civila intr-o conferinta de tip "town hall". 5.520 de persoane au trimis solicitari de participare Presedintelui prin email, dintre care doar 20 au fost selectate. Conform unei analize facute de Evenimentul Zilei, mai mult de jumatate dintre invitati erau conectati cu organizatiile lui Soros din Romania. Sa fi fost asta doar o coincidenta? Ne indoim.
Ambasadorul Klemm si reteaua Soros din Romania
Actiunile lui Soros in Europa de Est au fost catalizate de o intelegere secreta facuta cu administratiile Obama pentru a destabiliza societatea civila conservatoare din Europa de Est. Afirmatia aceasta nu ne apartine noua, ci este concluzia unui studiu al unei Fundatii americane. Chiar anul acesta, influenta fundatie americana "Judicial Watch" din Washington DC a actionat in instanta Departamentul de Stat al SUA afirmind ca se afla in posesia unor documente care dovedesc intelegerea oculta dintre oficialitati ale Administratiei Obama si George Soros privind de-stabilizarea guvernelor din Columbia, Romania, Macedonia si Albania.
Judicial Watch afirma astfel ca ca "evidence we've uncovered to date suggests there is collusion between officials from the Obama State Department (many of whom are still in government under President Trump) and George Soros to destabilize conservative, democratically elected governments in these 4 nations overseas, collusion which continues today" ("Probele pe care le-am obtinut sugereaza ca exista o intelegere intre oficialitati ale Departamentului de Stat al Administratiei Obama – dintre care multi inca functioneaza in guvernarea Presedintelui Trump – si George Soros pentru a destabiliza guvernele conservatoare alese democratic in aceste tari si ca aceasta intelegere continua pina astazi").
Actiunea declansata de Judicial Watch privind Romania a fost inregistrata la instantele din Washington DC pe 23 martie anul acesta si o puteti citi aici. Prin ea, juristii JW cauta sa oblige Guvernul la desecretizarea unor informatii si documente oficiale privind activitatile lui George Soros in Romania, inclusiv o copie a corespondentei electronice dintre Ambasadorul Hans Klemm si Open Society Foundation – Romania.